Honouring Slovenia Women on International Women's Day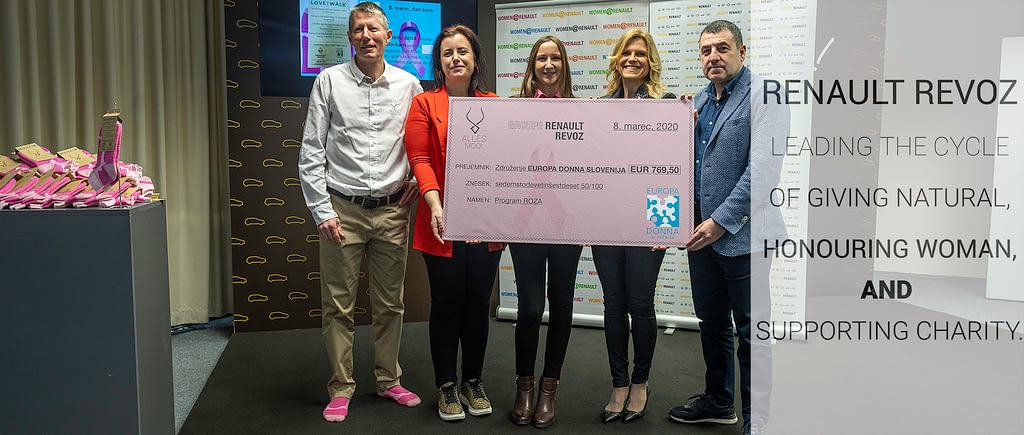 CHANGING THE CYCLE OF GIVING.
Women's International Day 2020 was celebrated at Renault Revoz by gifting their ladies with a gift from nature (pink mohair socks) and donating a part of the purchase price to Europa Donna Slovenia (breast cancer awareness).
Kaan Ozkan (Plant CEO),  Nevenka Zildžović  (Communications) and Simona Blažinč (assistant) from Renault were at the hand-over. Darja Molan, member of the executive board of Europa Donna Slovenija received the donation.  Wearing pink socks instead of shoes is mohair socks addict, David da Silva.

RECOGNISING WOMEN.
Few giving gestures can be more appropriate than recognising International Women's Day, especially the woman of Slovenia.  Slovenia has a bright future because of the strength of their woman.  Children spend the majority of their time growing up in the presence of mothers (compared to father time); so what better example than learning from competent mothers in those initial crucial years. Studies show that children of working mothers have a greater chance of being successful than children of non-working mothers. More than 95% of woman in Slovenia have full time jobs through to their retirement.

SLOVENE WOMAN.
I learnt some crucial lessons when moving to Slovenia in 2006.  Just like you should not open your mouth in your first Board Meeting,  one should not judge local practices until you have lived in the country.  On arrival I was critical of the 12 months maternity leave of mothers in Slovenia, often commenting "you cannot be competitive keeping work positions open for such extended periods of time"?  I could not have been more wrong.  Working in Slovenia I discovered a nation with incredibly competent woman. I would keep their positions open irrespective of time, just that they would return.
The women in Slovenia "kick the ass". Leaders who are confident enough to surround themselves with teams stronger than themselves,  look to the women of Slovenia".  Leaders without an ego acknowledge this.

SLOVENE MOTHERS.
No-one is perfect.  Likely 20% of Slovene mothers do not fit my observation (80/20 rule); so if you don't agree don't be mad,  just consider that you are in the 20%.  But be sure that you have no blind spot making you incorrectly believe that it does not fit with you.
My observation of the mothers in Slovenia is that they are tough on their daughters and soft on their sons.  Maybe this is why the girls grow up to be "kick ass". Compulsory military training was a balancing factor in the past, but today I see gender implications of this motherly protection of sons. The risk is that men then become "copatek" (Slovene for slippers) in their relationships.

WIN WIN RELATIONSHIPS.
At Alles Mooi we embrace the relationship with Europa Donna Slovenia. We can be part of supporting a worthy cause, and we have the privilege to meet women who reflect immense positive attitude to life. Women who genuinely serve people in the most meaningful ways. Jana Koteska (picture above) and Darja Molan (in the picture receiving the donation) are both breast cancer survivors. They are role models in every dimension of life.  And the same for everyone that we have met at Europa Donna Slovenia. There is reality in the notion that until we suffer a life threatening incident, or truly fail and hit rock bottom, that most of us do not develop the fight that gets us to live life fully.  Bumps in the road give us wisdom. 

LETS SUMMARISE:
Renault Slovenia are honouring their women folk on Women's International Day.  In so doing they are also supporting a worthy women's charity in Europa Donna Slovenia.  Renault have chosen a gift that reflects the colour pink (breast cancer awareness), and they have changed the cycle of giving to natural products. We urge other corporate's to follow the example of Renault, and not have the ego that says "they did it, so we won't".  Business strategy should be differentiated and it is good to be the first, but this is about doing the right thing.
We encourage you to read the blog about our Angora goats from which we get the mohair used in Alles Mooi socks.  Click "HERE" if you are interested to read about our Angora goats.